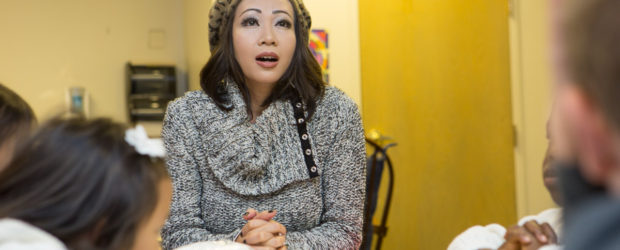 Sunday School is alive and well! So, here is an update, especially with the Holidays approaching. For the next two weeks, we will continue our (wildly popular) course on "Women and Missions." In the past weeks, we have heard stories about engaging in other cultures from Elena Romero and her time in Peru, from Janice Reagan and her time in Japan, and from Marianne Vermeer with her time in Pakistan. Each has emphasized what it is like living in another culture, learning their customs, and even raising a family there. In the weeks to come, we will explore the mission experiences of Debbie Blackburn, with the time she spent in Latvia, as well as the experience of Cassie Matthew in dealing with mission in our own community. Please join us for these explorations into the world around us, and how we are called to be involved.
On the Sunday of November 26, we will not have Sunday School, as we will be decorating the church and setting up
the Chrismon tree. This is a community event at New Hanover, full of laughter and tradition, as we begin our trek towards
Christmas. Indeed, there is no better way to focus our attention on Christ's birth—the central meaning of Christmas—than to spend time with the symbols of the church, as our friends and children remember how God freely gave the great gifts to us.
On December 3, we will do something totally different: our deacons will lead us in making Advent wreaths to take home. This
will be part of our entrance into Advent, as we gather for breakfast, read God's word, and begin our journey to the manger.
In this way, we keep the spotlight on the Christian origins of Christmas. With the Advent wreath, we hope to keep memories alive, so that the meaning remains centered on Christ's birth, and what this means us today. Starting on December 10, our own Terry Diebold will begin a class on "the spiritual disciplines." This is oriented about deepening one's life in Christ, by settling into new ways of praying, reading the Scriptures, meditation on the symbols, and the like. Please mark your calendars for this class, especially as Terry has a way of making these issues personal and meaningful.
Social Share